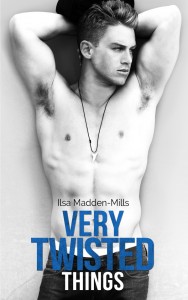 Sneak Peek: Prologue + Chapter 1
Very Twisted Things
A Standalone Briarcrest Academy Novel #3
by New York Times best selling author Ilsa Madden-Mills
Release Date: March 1, 2015
This is a standalone New Adult novel with graphic sex and language.
Introductory price of $2.99 on release day for 24 hours only!
A sassy violinist who lives next door. An obsessed rock star who watches her through binoculars. And one night when she bares it all. Life will never be the same in Tinseltown.
Description:   Vital Rejects front guy Sebastian Tate never imagined his YouTube music video would go viral, sky-rocketing him to acting success in Hollywood.
Okay, maybe he did.
After all, he's a cocky dude who knows he's hot-as-hell, and it was only a matter of time before his stars aligned.   But life in Tinseltown is never what it seems.   After being cheated on, his only rule to falling in love is simple:
Keep Calm and Don't Do It.
Spying on his mysterious new neighbor with binoculars se